18 December 2018 – Greetings from the Museum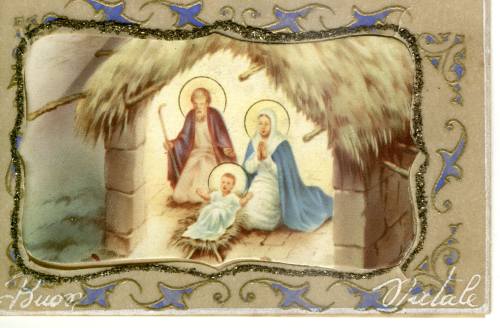 The Italian Museum of Folkloric Imagination closes the year 2019 with the Greetings from the Museum, an evening dedicated to Christmas and its traditions, Wednesday 18 December at 9 pm: as usual the appointment is in Via Ducale 4 in San Michele di Piazza al Serchio.
The event, curated by the Museum and with the voice of Manola Bartolomei and Valeria Agostini, traces the history of Christmas and presents themed stories from different Italian regions: as usual these are unpublished narratives preserved in the Museum's archive, result of decades of research.
Many are the magical appearances and the events that take place precisely on Christmas Eve: from the piece of wood chosen when cutting the plants and preserved to burn it and thus warm Jesus Child (Veneto) to the formulas to remove the evil eye that are handed down from aunt to nephew only this night (Calabria); from the masche, little witches of the Cuneo area who steal beautiful children and in their place leave their own, ugly and dirty, to the devil who takes the form of a child (Tuscany); from the snake to throw a piece of blessed bread during the Christmas Mass (Valle d'Aosta) to the cobwebs transformed by the bambinello into silver threads (Piedmont).
The evening continues with the Christmas carols of the Choir of San Michele and to follow some sonatas for violin performed by Sofia Piacentini; to conclude the wishes and a toast with the guests.
info:
Italian Museum of Folk Imagery
Via Ducale 4, San Michele
Piazza al Serchio – Lucca
Hours: Saturday and Sunday
from 16.00 to 19.00
E.mail info@museoimmaginario.net
https://museoimmaginario.net
For reservations and guided tours in Italian
+39 3519527312